It wasn't over until it was over. Once the officials had sorted out that that time was not the time, but whatever it was, it was up. Fitting really; the game had confounded us all. Racing 92 were up against everything in their third European Champions Cup Final and it was time that finally beat them. Fair enough; time will beat us all.
Exeter are a wonderful rugby machine. Skilful, clever, potent, implacable. They have grabbed hold of the professional game by the scruff of the neck and made it theirs. There is so much to admire; the accolades have poured forth this week. The mystique and romanticism is certainly there, they are not without humanity. The climb through the leagues, the honesty, the hard work; this is a team that is aspirational and inspirational; one we can all love a piece of. 
But as the game wore on, taking on the impenetrable structure, Racing 92 embodied something we all have resting in our soul. A warm feeling that brings us out of our houses, time and again, onto cold, wet playing fields. As much as we understand that rugby is now about pragmatism, preparation and practice, there will always be a place in proper rugby hearts for rolling the dice. You know: off the cuff, what's in front of you, shit or bust. It might not work but f*** it, let's give it a go.
Of course, this was part of the deal we did. Rugby was amateur; coarse, unkempt, incorrigible. Brilliant yet awful in equal measure. Professionalism brought with it high performance, high achievement, high return. Things became better; they are better, more often. Don't get me wrong, we are in the right place, but sometimes the rugby field flickers with nostalgia. Like the fondness we hold for an old flame; a love that was wrong for us, that didn't do us any favours, or make us better people. But, you know, it was still love. It worked, in its own way.
Racing were all that ill-found adoration; flamboyantly letting fly as though it wasn't a final but a Friday night fling: irreverently careening around a Bristol field, to the point of being cavalier. But magically, inexplicably, it appeared to be working. Exeter started fast but Simon Zebo and Juan Imhoff sashayed through as though unperturbed by the Chiefs' obvious dominance. Finn Russell kept throwing flirtatious passes that interested everyone, and, coupled with a glorious work ethic, Racing kept pace: just. In the second half, time seemed to slow and on sixty-five minutes, Exeter's lead, which had stretched to nine points at one time, was now just a precarious single point.
But keeping pace is one thing. Overcoming is something else. Even down to fourteen men, with prop forward Tomas Francis sin binned, the Chiefs have come too far and have been playing this righteous way for too long, to be jilted now. Having not opted for a penalty kick in the game previously, rosy-cheeked captain Joe Simmonds pointed down the pitch at the posts in the 78th minute. It was a long way out but three points that would take them four points clear and, crucially, would take vital seconds out of the contest. The amount of seconds would be contentious as the curtain came down but, either way, it proved enough. The lilac-clad leapt as conquering confetti came down. And you couldn't help but smile.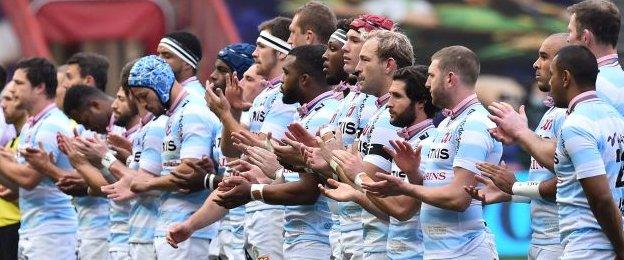 It was a match where rugby had fought itself, and we all benefited. We have a team of Champions in Exeter that are incredible; that have led the line this year impeccably. They represent a new age of the sport. The very best of men. Reassuringly accurate and efficient: certain, determined, reliable. They are what we need, what we deserve. Having your heart a-racing isn't what life is about. Who needs bygone eccentricities, when you can have excellence? Did you see their silly pink bow ties before the game? With their dark, tousled hair and smoldering sideways glances: it's just frivolous and old-fashioned. Exeter are number one. The one. They will look after us. Never let us down. They are our future, not our past. Always, always, always. OK?
I said OK?
You're still thinking about them, aren't you?