February clocks on; a licking of lips. Buoyed by rounds of European pounding and a previous summer of British and Irish togetherness, we turn on each other. This feels so good. Humming each other's tunes and yet, every melodious note is like a friend we have to fight. The band plays; we march on the colosseum, cockerel in hand; the delivery strong, the carry homeward; shoulder to shoulder, to think again.
What this year? Surely we know what happens. Each twist and turn has twisted and turned before. This is a story we love to hear; a journey we joy at taking. We should not be confounded by a path we've trodden a thousand times but we will be. This next two months will make perfect sense and no sense at all. For this tournament is everything and nothing. A paramount triviality. Just a ball placed over a line. But what a ball, and what a line.
Let us take some stock. Wales: depleted. Names have gone west; this will be a study in scarlet. And yet, such is the lacking, the more they are for it. Hands have been forced, and so, they will be forced to use their hands. The worst of times, the best of times; desperate yet decent. Wales are eminently beatable, but few will fancy doing it. They'll lose but score some great tries. Surely?
France are never more dangerous than when you don't know where they are. And lost would be a good word to describe them. How quickly can they find their way back? A new coach but some well worn phrases; perhaps we don't know who will turn up: Priso, Gomes Sa, Lambey, Jalibert. The French are pinning their hopes on some big cannons and a little commandant. That has worked in Europe before. To a point.
Conor O'Shea has something; Italy will be better this year. Their club sides have shown some inclination and we still have last year's offside ingenuity teasing out a smile. They will come in as outsiders but if there's a story more warming than that of Ian McKinley, I want to hear it. An Irishman who has found new life in Italy, a rugby renaissance. He will view the competition out of one eye, from behind special goggles. We all get a little myopic at this time of year.
Scotland's stock is rising. Kiwi Dave's Warriors top the Pro 14 and gifted Gregor can galvanise like no other. 'When will we see…?' If they can just get things right. The front row a worry, and in those cold and wet early spring conditions, knocks on will happen; scrums, crucial. You feel it possible in other areas of the field. England at home but Ireland away. It would take something special from the bearded clan. They can be special.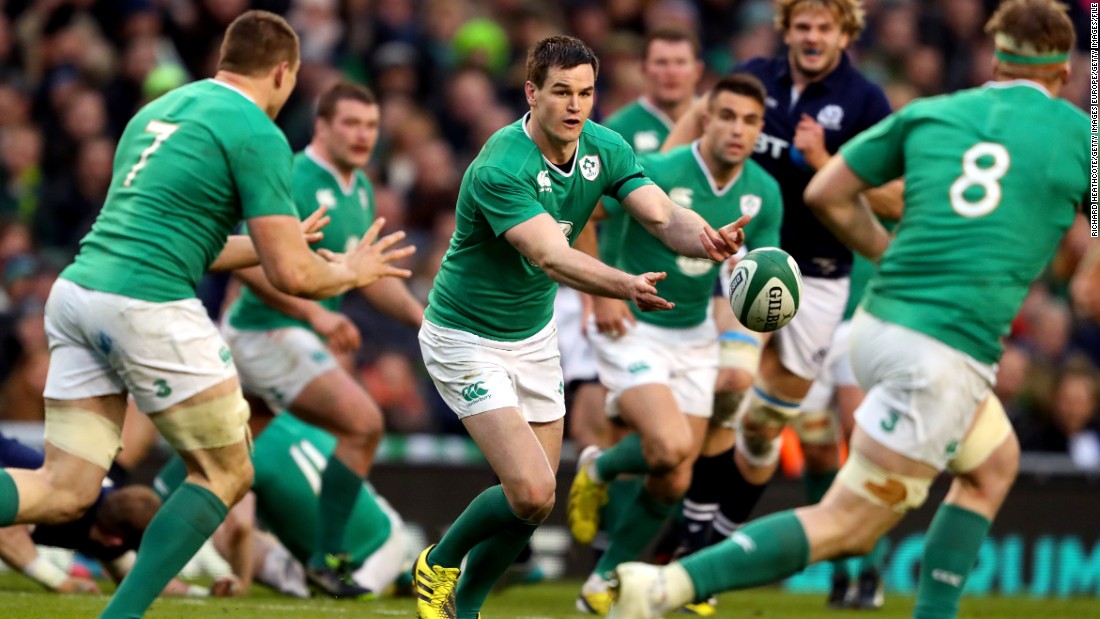 Ireland. This is the side. Call off the search. On paper, 1 to 15, heartbreakers everyone of them. And who lovelier in this game than a man called Larmour. And he may not even get a smooch. The slow start versus the Scots last year preventing the final weekend showdown. Not this side. To Twickenham in round five: St Patrick's Day. Time to answer the call.
And then squawking England. Unsurpassed in thousands of days. Hawking Eddie Jones; he'll sell you anything; tell you there's few positives in the England camp. But remember, there's no aye in team. And he has a team. Arguably better than any. You keep Farrell firing and the forwards effective, you'll get points. They are missing a few, but not enough. They'll be there, or thereabouts.
And so we begin. Weekend after weekend of unbridled passion. Find your favourite position. Some complicated moves, simple ones too, for the uninitiated. We just need to get going. One thing's for sure, there's nothing like it. Involve yourself; join in at home. Close the curtains and let the pleasure flow. This is what it is all about; this, ladies and gentleman, is the joy of six.